Established in Ghana in 2021, BetKing users enjoy high odds and access to different gambling options with the BetKing Ghana promotion code. This BetKing review contains information about how the betting platform operates.
---
Jump to
---
❓ BetKing Review: Is Betting Legal in Ghana?
Yes, BetKing is legal in Ghana. Although new to the Ghanaian betting industry, BetKing meets all the legal requirements to operate in the country. So far, there have been no complaints from users, so it would be safe to say BetKing is legal in Ghana.
BetKing has found a place in the country since 2021 after being commissioned by The Gaming Commission. Its license was awarded based on the Gaming Act, 2006 (Act 721). As it stands, the owners of BetKing Ghana are Arcadia Games.
⚽ BetKing Sports Betting Review
BetKing's primary focus is to make wagering seamless on the platform. The only downside to using the sportsbook is that it does not have a mobile app. However, the platform tries to make up for these shortcomings by offering users other unique features.
From its inception, BetKing saw a gap among Ghanaian punters – the payout process was long, the odds were relatively low, and customer support was insufficient. BetKing makes up for one aspect by making payments smoothly and efficiently. They have naturally bridged the gap for Ghanaian punters who previously waited a long time to get paid. They also help make the process of betting easier for players in Ghana.
In this BetKing review, we will examine some sports betting features.
Odds
Aside from bonuses, odds are a significant factor that attracts players to a particular platform. BetKing Ghana has excellent odds compared to other odds in the Ghanaian betting industry. For each game a player stakes, they would get considerably higher odds.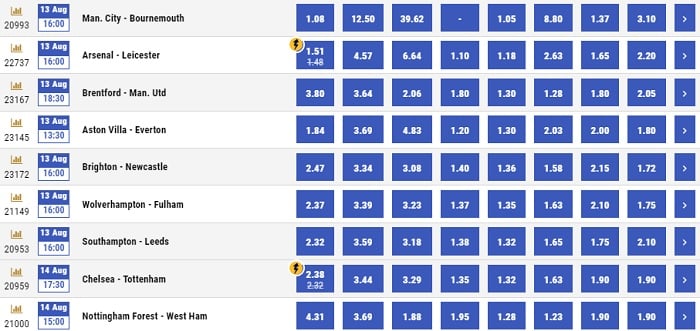 Sports Betting
The platform has many games with over 5000 sporting events monthly, so players won't be short of betting options. Some sports available include football, volleyball, basketball, cricket, rugby, and many more. You are certainly going to find your sport among the selections.
eSports
A BetKing review would not be complete without writing about the platform's eSports. eSports allows players to stake on live electronic games. Players can bet money on live head-to-head games like Polsat and Riot LoL.
Virtuals
BetKing has a section dedicated to virtual games where you can bet on simulated events. You'll find games like Keno, Greyhound, and Spin 2 Win on that page.
Live Streaming
BetKing allows players full access to round-the-clock live sports video streams. The essence of live streaming is to allow bettors to enjoy an exceptionally entertaining sports betting experience. So, players can view the games live while betting at BetKing.
Live Betting
This feature allows users to place bets on games that have already started. This option will likely give the player better odds after the game starts. For instance, before a match begins, a team could have lower odds, but the odds could increase a few minutes into the game. It will give the player a different game perspective and a better chance of winning.
Promotions
BetKing Ghana offers several promotions to new and old players at the sportsbook.
Promotional codes will allow newly registered players access to the platform's registration bonus. Players can also use promo codes to access other promotional offers on the website. You need to visit the website for detailed information about any current promotional offerings the bookmaker may have.
✨ BetKing Jackpot Review
BetKing also allows its players to enjoy amazing jackpots. You can accumulate points by playing in the BetKing Virtual Leagues. You can choose Kings League, Italiano, Liga, or Bundesliga. Once you place a bet on the Virtual Football League, you automatically enter into the draw.
Here is how it works: play more to have a better chance of winning. Playing more gives you better odds. There is no limit to the number of tickets you can play, as winners are selected randomly. Also, whether your bet slip wins or not, it doesn't stop your participation in the jackpot.
💳 BetKing Payment Methods Review
Bettors need different ways to deposit and withdraw from betting sites. BetKing has provided several methods for payments in Ghana. Payment methods players can find on BetKing Ghana include VISA, MasterCard, Paydirect, Quickteller, PayInstantly, and Verve.
BetKing Ghana doesn't specify limits for withdrawals or deposits. However, players need to keep in mind that accounts need to be verified before they can make any withdrawal.
🎁 BetKing Bonus Review
Many punters pick betting platforms because of the bonus that they offer. BetKing is no exception, as they have lots of bonus and promotional offers for both new and existing customers. In addition, they also have seasonal bonuses on the site from time to time, which players can access by visiting the Promotions page.
BetKing's currently available bonuses include the Cut 1 bonus, Virtual Jackpots, and Jumbo bonus. The Cut 1 bonus gives players a cashback on lost bets that meet certain requirements.
On the other hand, the Virtual Jackpot and Jumbo Bonus are both bonuses where players get automatically entered for a draw. If you play any virtual game, whether it is BetKing Virtual League, KingMaker Jackpot, or Duke Jackpot, you automatically enter the Virtual Jackpots draw. While for the Jumbo bonus, you automatically enter if you bet between 5 – 40 selections.
📱 BetKing Mobile Review
At the time of this BetKing review, the bookmaker does not have a mobile app. However, the platform is likely going to have one soon. Currently, they have the BetKing lite option. The BetKing lite option helps simplify the website on mobile devices to make the user experience smooth. The lite option allows users to enjoy the platform without needing a strong internet connection.
If you find the new website too complicated, BetKing allows users to switch to the old mobile. The old mobile is so easy to navigate that even first-time users will not have problems finding their way around it.
The BetKing mobile site is simple and easy to navigate. Despite its simplicity, it allows users to enjoy all its benefits, including its live streaming feature.
🖊️ BetKing Registration Review
Registering on BetKing Ghana is very straightforward and won't take you more than a few minutes. The required information includes your email, first and last name, home address, date of birth, and state of residence.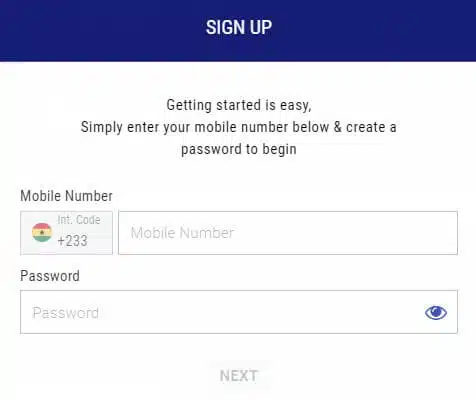 📞 BetKing Customer Service Review
Customer service is an area that BetKing excels in. The customer service team is very responsive, and BetKing has agents across different platforms. Their customer service agents are professional and friendly to players. They are available all week and on weekends as well. This BetKing review will show you how to reach their customer service team.
You can reach them directly through phone calls or send a message through email to their support center via сs@bеtking.соm. Note that you must send all emails between 8 and 10 PM.
Sometimes you don't even need to talk to an agent; the answers you need might already be on the Frequently Asked Questions page. So visit the FAQ section for first-hand answers to questions. You can also visit the tutorial page; it contains information that can guide first-time players on the site. It makes registering, navigating the site, and placing bets easier.
Finally, you can also reach out to their agents on their social media:
Fасеbооk: @BetKingGhana
Twittеr: @BetKingGhana
Instаgrаm: @bеtkingghana
🏆 BetKing Review Ghana FAQs
What is BetKing?
BetKing is an international online sports betting platform that allows users to stake in some of the most popular sports such as football, tennis, basketball, and ice hockey. Although the platform is new in Ghana, it has proven to be a reliable betting platform. This BetKing review covers everything you need to know about BetKing.
What are the benefits of BetKing Ghana?
The platform offers competitive odds on football and is one of the best in the Ghanaian betting industry. The platform also provides a variety of betting markets and fantastic customer service. Although it doesn't have a mobile app, it has a great mobile-friendly website.
Does BetKing do cash out?
Yes, they do. Cashing out is simple; log in to your account, enter your coupon code into the bar, and finally click on "Cash out" to take your profit.