The quest for the best betting site is a never-ending process. It goes just as much for Kenya as for the rest of the world. To help you in the process, we're doing a BetKing review in Kenya. We're also going to cover any BetKing Kenya promotion code you can use for the bonuses.
---
Jump to
---
❓ Is BetKing Legal in Kenya?
You've asked a fantastic question. Whenever you think about participating in online gambling, legality and security should always be your priority. BetKing is licensed by the Betting Control and Licensing Board of Kenya under the Lotteries and Gambling Act.
If you're not aware, if an online operator wants to offer services within a country, it must be licensed by the corresponding authority.
However, when an operator is based outside of the country's borders, it's classified as an "offshore" operator. Kenyan laws allow both local and offshore operators to accept players.
Now that the legality concern of the operator in question is out of the way, we can move on to the BetKing review that you've been waiting for.
⚽ BetKing Sports Betting Review
In African countries, sports betting is the predominant favorite among gambling enthusiasts. More people are interested in betting on sports rather than playing casino games. That's why pretty much all of the operators in the continent primarily focus on sports betting only.
BetKing is no different. It's an excellent bookmaker with a huge list of sports to choose from. After you land on the homepage, you can click on "Sports" from the navigation menu to go to the sports betting section of the website.
Let's go over the features of this section in our BetKing review.
The Odds
If you have previous experience with sports betting, you must know that you can't move an inch with your adventures if you don't know how to read the odds. Odds are basically the laying bricks of sports betting.
BetKing Kenya lets you choose between Decimal, American, and Fractional odds. These 3 are the most widely used formats all over the world.
In Kenya, the Decimal format is the most popular one. By default, the odds show up as decimal. Just look for the settings icon on your account to change it.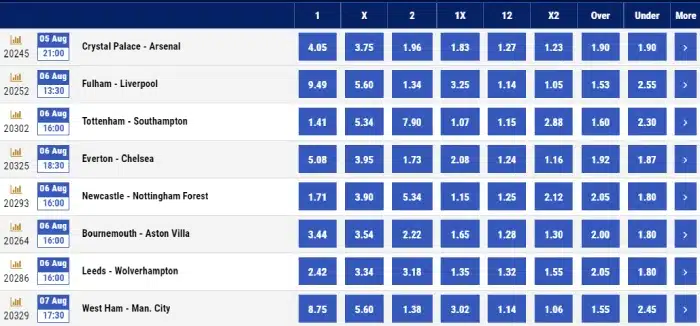 The Sports Library
At the end of the day, the sports library matters the most to an online bookmaker. So, what sports did we find in our BetKing review, you ask?
At the time of writing, you can bet on Soccer, MMA, Darts, Cricket, Aussie Rules, Athletics, Rugby, Cycling, Tennis, Volleyball, Boxing, Golf, Baseball, Ice Hockey, Basketball, Formula 1, Esports, and a few other ones.
The operator even offers special betting opportunities like odds boost, simulated soccer, King's Combo, and Goal Scorer.
Popular Betting Markets
Right after the sports library, the markets matter the most. A market is a selection that you can add to your bet slip. The number of available markets depends on the number of active tournaments as well as what sport you're targeting.
Soccer, or football, whatever you may want to call it, usually has the biggest selection of markets. We found the same thing in our BetKing review in Kenya. You get regular markets like 1×2, Double Chance, Over/Under, etc. as the main market.
Then, you can also expect niche markets like "both teams to score", "Chance Mix O/U", "Handicap", "home to win either halves", and plenty of others. A somewhat similar market library is designed for other prominent sports too. So, you'll have more than enough options to bet in Kenya.
Live Betting
Of course, how can we forget about live betting in our BetKing review? Live betting is pretty much a standard offering now at online bookmakers all over the world. BetKing even has a dedicated section on the main menu for live bets.
When you first land on the "Live" section of the website, the listing may seem a bit limited to many of you. That's because BetKing only lists the ongoing matches at any given time. So, the list is actually changing all the time.
As for live streams, they're offered on very limited events. You also need to be logged into your real money account to access those streams.
✨ BetKing Jackpot Review
In the Kenyan sports betting scene, jackpot promotions are extremely popular. Pretty much all the online betting sites that have operations in Kenya offer some form of a jackpot.
These are not casino jackpot games. Rather, these are selection-based predictions where you can win massive rewards.
During our BetKing review, we found such a feature for Kenyan punters. The Virtual Jackpot promotion. As the name suggests, this feature is available in virtual sports only. New Kings' Bundliga, to be precise.
BetKing claims that you can win up to KES 25,000 every single day from this bonus!
How Does Virtual Jackpot Work?
At the time of writing, the promotion is available on King's League, King's Liga, King's Italiano, and King's Bundliga games. Every time you place a real money bet on any of these games, they're considered a ticket for the draw. It doesn't even matter whether your submitted bet slip wins or not.
As it's a draw-based promotion, there are no leaderboards or minimum threshold of real money betting that you have to stick to.
You can win up to KES 25,000 from the draw every single day. And the best thing is, there are no wagering requirements for the money you win. It'll directly be credited to your real money account.
💳 BetKing Payment Methods Review
For any kind of betting activity online, you need a solid payment method. That's why the payment methods are a very important part of our BetKing review.
You might be aware of the popularity of mobile money methods in Kenya. Due to the lack of penetration from international e-wallet providers, punters are mostly dependent on local mobile methods.
And BetKing offers only M-Pesa at the time of writing. This is a money transfer service offered by mobile network operator Vodafone. It was launched in association with Safaricom, the largest mobile operator in the country.
You can do both deposits and withdrawals using M-Pesa by simply using the menu. According to the BetKing website, you need to visit the menu, choose Lipa na M-Pesa, enter the business number 290690, enter "BETKING" as your account number, and go through with the transaction.
You can deposit as low as KES 20 for sports betting and KES 10 for virtual betting. The maximum is not stated.
The money should show up in your account right away. You'll also get a confirmation SMS on your phone.
Just like the deposit, the withdrawal also works with M-Pesa. You can withdraw directly from the website, you can withdraw by dialling a USSD code, and you can withdraw via SMS.
Withdrawal Procedures
If you're using the website withdrawal, just log into your account and visit the withdrawal menu. All you have to do is enter the amount you want to withdraw. The money will automatically be credited to your M-Pesa account registered against your mobile number.
For the USSD, dial *375# on your phone. You'll keep getting prompts on your screen to select what you want to do next. Choose withdrawal, enter the amount, and let M-Pesa do its thing.
Last but not least, you can send SMSs to request a withdrawal. All you have to do is follow a specific format for the withdrawal code and you're good to go. For starters "W#1000" means you want to withdraw KES 1,000. Send the SMS to 29070.
One of our favorite features in this BetKing review is that the withdrawals are processed instantly if your account is verified. The Kenyan shilling is the only currency accepted by BetKing in Kenya. So, if you're using a dual currency method, you may have to pay conversion charges.
🎁 BetKing Bonus Review
Bonuses at an online bookmaker play a major role in customer acquisition and retention. BetKing knows how to design amazing bonuses for the Kenyan punters!
Let's start with the "OKOA STAKE 125%". Basically, you can win a 125% cashback up to KES 200 on your 8+ selection bet slips.
An excellent feature offered by BetKing in our opinion is "Data free" betting. Essentially, you don't need any data packages to access the BetKing platform anymore! That's amazing because you can just jump into betting any time and from anywhere you want.
📱 BetKing Mobile Review
In this day and age, it's not possible to survive as an online business if you don't have proper mobile compatibility. It goes without saying for online betting too. BetKing offers amazing mobile site support for this very reason.
The website runs flawlessly on Windows, Mac, iOS, and Android devices. Thanks to the use of HTML5, the web pages just adapt themselves to the particular screen size. As for the BetKing mobile app, it's only available for Android users.
It's understandable because the majority of smartphone users in the country stick to Android. To be honest, it's unfair competition for iOS as more than 90% of Kenyans put their trust in Android.
The footer section of the BetKing website has a "Download App" link. You get a QR code as well as a download link for the Android app. Just don't forget to enable permission on your phone to install apps from unknown sources.
🖊️ BetKing Registration Review
Before you can participate in any of the activities we discussed in this BetKing review, you need to register yourself an account. The process is very straightforward. Visit the website, click on the "Register" button, enter the details, and you're done!
📞 BetKing Customer Service Review
At any time during your betting journey, you might face problems. And to solve those problems, you need communication channels with the operator. BetKing in Kenya offers support via telephone, live chat, email, Twitter, Facebook, and Instagram.
To use the live chat channel, all you have to do is sign into your account. And you can call the support team at 0111143000. Both of these channels are active 24/7 from Monday to Sunday. Last but not least, send all your emails to [email protected].
🏆 BetKing Review Kenya FAQ
How good is BetKing?
BetKing is one of the finest online bookmakers in Kenya. It's properly licensed, offers a huge library of sports to choose from, has a reputed payment method, and whatnot. Overall, you can expect a blast on this bookmaker.
Is BetKing available in Kenya?
Yes, BetKing is available in Kenya. Not only that but it's licensed by the Betting Control and Licensing Board of Kenya.
Does BetKing do cash out?
You'd be glad to know that BetKing Kenya offers cash out for single and multiple bets. It's only available for 24 hours so you have to hurry up on whatever match you want to get on.
How to place a bet at BetKing Kenya?
You can use your account to place bets at BetKing Kenya. You can even use the SMS channel or the USSD channel to place bets. The instructions are very nicely provided on the website so make sure you check them out.